Long Island's Best Beaches In 2022
Jan 18
Beautiful beaches, not only in the Hamptons, stretch around the north and south coastlines of Long Island, recognized for their family-friendly atmosphere and natural beauty. There is a Long Island beach for everyone, whether you have little children who want to relax or older children who want to body surf. Get ready for breezy coastal breezes and sand between your toes.
Picnic spaces, swimming pools, playgrounds, restroom complexes, food trucks, and umbrella rentals are all available at these family-friendly Long Island beaches. Take a look below at our list of the best beaches on Long Island.
Before you put your kids with sunscreen and go out the door, remember that beach season in 2022 will undoubtedly be different from previous years. There are more laws than normal, despite the abundance of open coasts. Unless otherwise stated, these beaches are manned from Memorial Day to Labor Day.
Long Beach Boardwalk 
This favorite among the locals is a terrific place to spend the day. Long Beach's 2.2-mile boardwalk is one of the city's highlights. The city set out to rebuild the boardwalk after it was wrecked by Superstorm Sandy in 2012. A walk down this section is intriguing and instructive, with recycled wood, local artwork created by people, and historical markers and explanations. Tour the boardwalk on rented bikes (or bring your own) before heading to the beach. Guests can hire umbrellas and chairs on a daily basis. Visit the ocean-themed Magnolia Boulevard playground after a day of sea and sandcastles. Then get a bite to eat at one of the boardwalk's numerous food trucks, restaurants, or concession booths. The Long Island Rail Road connects Long Beach to New York City, and there is adequate parking. Long Beach is very busy on weekends, so get there early. Residents pay $12, while non-residents pay $15. Children under the age of 12 are admitted at no cost.
Robert Moses State Park
At the moment, capacity is restricted to 50%. Avoid being turned away by arriving early. Construction has caused the playgrounds to be closed.
Robert Moses State Park is the ideal family beach location, with over five miles of gorgeous beachfront. Visitors may enjoy swimming, surfing, and boogie boarding on four fields, all of which have lifeguards. Concessions, beach shops, first aid, and rest areas are available at each field. Field 5 has a huge playground for children, as well as a boardwalk and a nature trail that goes to the lighthouse on Fire Island. Picnic spaces with park grills and tables may be found in many attractive locations. A big picnic pavilion as well as an 18-hole pitch-and-putt golf course are offered. This park may be reached by automobile or by taking the bus from the Babylon LIRR station. Fields 2–5 provide free Wi-Fi.
Nickerson Beach Park 
Only Nassau County residents have access to Nickerson Beach.
This 155-acre property near the Atlantic Ocean provides a variety of sun-kissed activities for the entire family. The beach here is lovely, with smooth sand and crystal clear water. Families, on the other hand, visit this location because of the amenities. A skate park with numerous ramps and fences for adventurous riders, basketball and beach volleyball courts, and a tennis court are also available to teen guests in the "Fun Zone." A lovely beach pitch-and-putt course where family may play nine holes among the dunes is also available. On the grounds, there are two full-size pools and a kiddie pool. There is a playground, concession stand, and a huge picnic pavilion where you may have your lunch in the shade. Although the cost may appear high if you do not have a Nassau County Leisure Pass, this beach offers a full day of activities for the entire family. There are toilets, showers, and lockers. Leisure Pass holders pay $15; non-pass holders pay $37.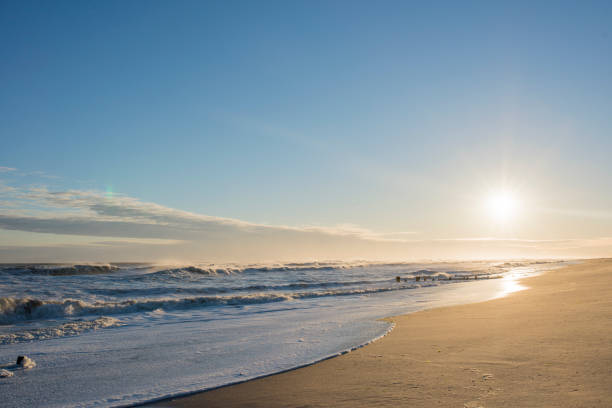 Town Park at Point Lookout
Concessions are closed, and it is only open to Nassau County residents.
Head to this Town of Hempstead beach for a laid-back beach experience. It's a laid-back spot to get away from the throng at the more popular spots. From the lot to the sand, it's only a short walk. Visitors must bring their own food, chairs, and umbrellas because there are no concessions or rentals available, however toilets are provided. Only Town of Hempstead residents are charged $10 per car.
Jones Beach State Park
The capacity of Jones Beach is now limited to 50%, so get there early or risk getting turned away. Tickets for the famed air show have already sold out for Memorial Day weekend. You will be unable to access the park during the first weekend of the season if you do not have a ticket.
For years, families have flocked to Jones Beach State Park. The park stretches for 612 kilometers over a stunning coastline. More eateries, a boardwalk, leisure path repairs, new playgrounds, a splash pad, and an adventure park have all been added in the last several years. Swimming in the water, strolling along the boardwalk, and visiting the Nature Center are all options for visitors. On the new leisure walk, bicyclists are allowed. Fields 3, 4, and 5 provide beach access via the park's famous beach tunnels; field 10 allows fishing; and Field 5 provides beachside parking and access to the tranquil waters of Zach's Bay. Swimmers must swim in specified areas with lifeguards since the surf at Jones Beach can get fierce. At Fields 2, 6, and Zach's Bay, mobility mats cover the sand to make it simpler for those with strollers, wheelchairs, and beach gear to get about. Enjoy hot dogs and ice cream at a typical lunchtime food stall. Gourmet concession kiosks selling made-to-order pizzas and truffle fries have been added to the facilities in recent years. Also, be sure to look at the Jones Beach Theater's summer concert program. On weekends and holidays, Jones Beach becomes packed, so get there early. At each field, there are restrooms and change rooms.
Orient Beach State Park 
At the moment, capacity is restricted to 50%. Avoid being turned away by arriving early.
Orient Beach is a natural marvel located on the eastern edge of the North Fork. Swimming, fishing from the coast, kayaking, and walking one of the numerous nature paths are all options for families. A huge playground is available for children, and there is lots of room for picnics just behind the playground. Collect shells, watch seagulls, and stroll around the saltwater marsh. This off-the-beaten-path location exudes tranquility and natural beauty. There are restrooms on hand.
Ocean Beach
Ocean Beach, a stretch of the barrier island flanked by Great South Bay and the Atlantic Ocean, sits in the midst of Fire Island's party environment. It is car-free, like the rest of Fire Island, and can only be reached via boat from Bay Shore. As early as mid-May and far into October, warm ocean currents make the water appealing. There is no alcohol or radio on the beach. Near the shore, there are several dining alternatives, particularly for seafood aficionados, as well as several prominently situated toilets. The hamlet may be difficult to navigate for first-time tourists, but locals are friendly and outgoing; simply ask for directions. At the Bay Shore LIRR station on the Montauk branch, taxis are available to the ferry dock. It is completely free to visit the beach.
Sunken Meadow State Park
At the moment, capacity is restricted to 50%. Avoid being turned away by arriving early.
The tranquil waters of the Long Island Sound are a lovely place to spend a summer day, with three miles of shoreline. The vista is stunning as the beach changes to wind-formed cliffs. You can see Connecticut on a clear day. Enjoy a day of natural beach splendor by strolling down the boardwalk and purchasing meals from the concession stand. Nature trails, a huge playground, and plenty of room for picnics are also available.
Hither Hills State Park 
A sandy coastal beach, playground, and a unique camping with an ocean view are available to families at this gorgeous park. There are biking and hiking routes, as well as the Napeague Harbor's "walking dunes." Bring your own picnic or buy food to eat at the picnic tables. There are restrooms as well as a change space. For a fee of $35, residents of the state can camp overnight.